All Round Nevada





CAHR #1A 06447
also eligible for regular ApHC papers
foaled on May 9th, 2006








All Round Nevada
2006 red roan Half Arab Filly
Nevada is bred to rein or chase cows but pretty enough to halter. This red roan filly is by two time Alberta Champion Stock Horse of the Year, All Round Texas, National Champion and sire of multiple National Champions. She is out of a halter bred Wayne Newton mare, WN Golden Flash. With lots of type and style, this filly is flashy!

Nevada is not a big fan of arena work, but she LOVES the trail! Sound and sane, she loves to go off exploring. Nice smooth gaits, lots of go without any crazy and has a really nice stop on her. Ready for serious miles!

Sold to Nora and David Schier of Blackie, Alberta to be their 'everything' horse.



Full sister, Star Of Texas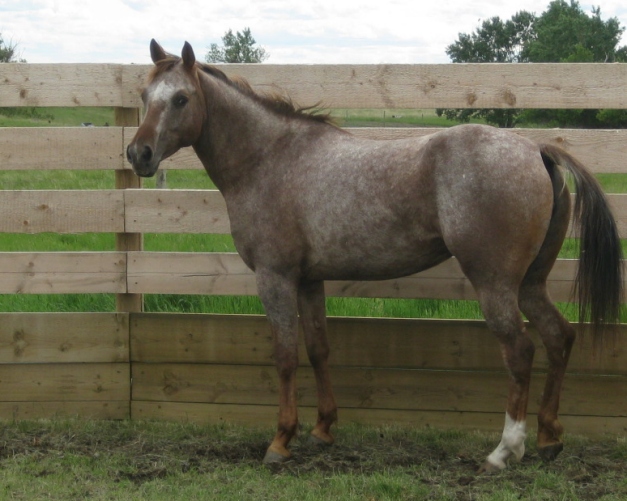 Pedigree for All Round Nevada
GO BAY GO
60855 ApHC

GOER
180530 ApHC

MISS BAR HEELS
272595 AQHA

TEXAGO


T363740 ApHC

DIAMONDOTE CANTICO
159800 ApHC

DIAMONDOT MUSSETTE
PC2904 ApHC

DIAMONDOT TONITA
T77357 ApHC

(Sire) ALL 'ROUND TEXAS

MIGHTY PEAVY
44786 ApHC

MIGHTY IMPRESSIVE
T233723 ApHC

MISS BERSEEMBORO
PC1188 ApHC

IMPRESSIVE QUEEN
288959 ApHC

LITTLE BOOGER
T7423 ApHC

TOPSANNAH
T35279 ApHC
CHAPPO McCUE
194274 AQHA

JACIO

*GG SAMIR

ALHAJA

WN MI MANERA

*NABORR

NABORRS JOY

SURA JOY

(dam)

WN GOLDEN FLASH

EL HAZEER

BLUESPRUCETANZEER

BLUE SPRUCE TANGO

WN TAMARINA

*GG SAMIR

WN COTY

WN TINANNSERA