J's Rustlin Princess


foaled April 1, 1994

ApHC & ApHCC

Born black on April Fools Day, Princess shed out a dark brown. While she has not been dna tested for creme we do know she carries the dilute gene as her offspring have been tested and found to be 'smoky black' which is the cream gene (responsible for buckskin and palomino) on top of a black base. Princess has produced three skookum built smoky black colts; two blanketed by All Round Texas and one solid by Rein Dancer SSH.

Texas Pegasus 2004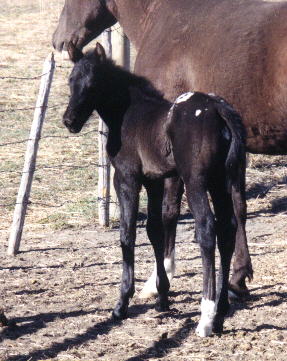 Rustle A Texas Moon 2005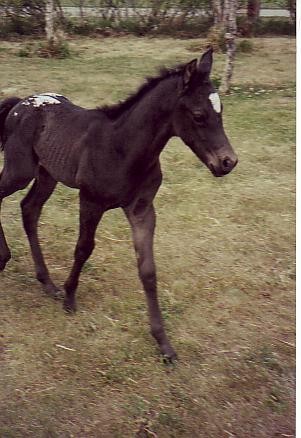 Reining Prince 2006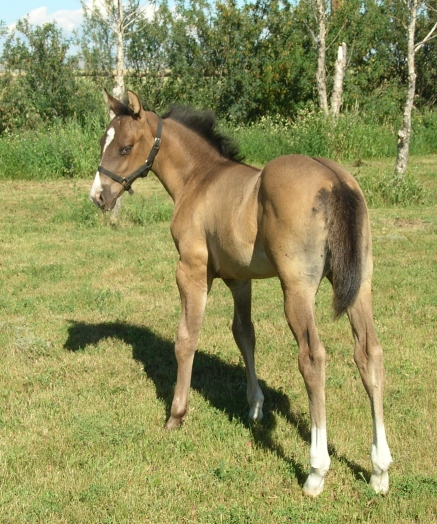 Princess is owned by Forest Edge Appaloosas of Montana. Her pedigree reflects their excellent breeding program designed to produce foals that are pretty, athletic, and that perform well in many disciplines.

Her sire, Mighty Rustler, was a Multiple Medallion Sire with foals winning everything from halter futurities to World Qualifiers in every category offered.. Mighty Rustler combined the awesome working bloodlines of Mighty Peavy with the pretty cattle horses of the Rustler bloodlines.

Her dam, Plaudit Sunbright produced a res world champion and Cdn national champion who is a full brother to Princess. Her famous sire, Mighty Tim, was a world champion, national champion, and champion sire.

Princess was ridden and trained approximately 10 months. Most of the training time was spent reining and working cowhorse due to her exceptional athleticism (and her breeding) - Todd Campbell of Montana (reining), Steve Smith of Colorado (riding, reining) and Jim Jirkovsky of Nebraska. She is solidly broke for an experienced rider but does not like "pressure" of working cow and will quit the cow. She was never worked/trained for the more quiet events and there's no reason she can't be shown the quieter side of riding.

Contact Jan Phillips
Forest Edge Appaloosas
email: fe_appys@bigsky.net
Pedigree for J's Rustlin Princess
Smoky Black Appaloosa


Mighty Rustler

Mighty Peavy

Mighty Bright

Genivieve Peavy


Rustler's Missy

Rustler's Zip

Montrose Bobby Sox

Plaudit Sunbright

Mighty Tim

Mighty Bright

Cherry Cordial

Prince's Snowkist

Prince Plaudit

Showkist
This pedigree page was built by Connie at SitStay.com
| | |
| --- | --- |
| | Prince's Snowkist and her filly Plaudit Sunbright |