Texas Tells SSH

Dark bay roan gelding
Double registered ApHC & ApHCC
Stands 15' 1 hands at 30 months

foaled June 8 , 2000




Tell has 2 months professional ground training that included obstacles and fences as well as about 4 months professional training for western pleasure. He has been trail ridden in the bush and in the mountains and walks out well with no hesitation. He crosses deep flowing rivers and creeks, climbs banks, goes through mud and pushes through bush. He is not spooky and does not shy from dogs, birds, or deer. He has also been ridden English pleasure for a brief period and will spend this winter doing some work in preparation for junior hunter. We are hoping to show him in junior hunter as well as junior western pleasure classes next show season.

He is a dark to black bay with white and black spots over his hips but these show up better in his summer coat than his winter coat. He is roaning and developing more white spots over his hips. He is not loud colored but should continue to color out so you can see his pattern at distance.

Tell is a well mannered horse that really enjoys people and is very willing under saddle. He works just as well in the arena as he does outside. With his good mind, pleasant personality, size, nice build and excellent pedigree, this one is a deluxe versatility prospect.
Tell has moved to Saskatchewan to live with Andrea Curry and family. Andrea and Tell have plans to show, as well as have some fun on the trail. Pictured below are a couple of pictures of the two of them at the Moose Jaw show in the fall of `03.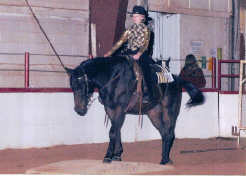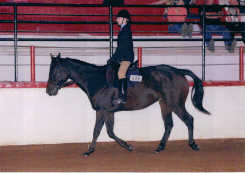 Pedigree for Texas Tells SSH

bay roan gelding

All `Round Texas

Texago

Goer

Go Bay Go

Miss Bar Heels

Diamondot Musette

Diamondot Cantico

Diamondot Tonita

Impressive Queen

Mighty Impressive

Mighty Peavy

Miss Berseemboro

Topsanah

Little Booger

Chappo McCue

Promisenottotell - JC

Tell

Round Table

Princequillo

Knights Daughter

Nas-Mahal

Nasrulla

Love Game

Chocolate Belle

Royal Chocolate

Amber Morn

Rocket Shot

Bold Fell

Bold Reason

Fell Flat
This pedigree page was built by Connie Hunter at SitStay.com