Texas Sun Down QT
Foaled May 23, 2003

dual registered ApHC / ApHCC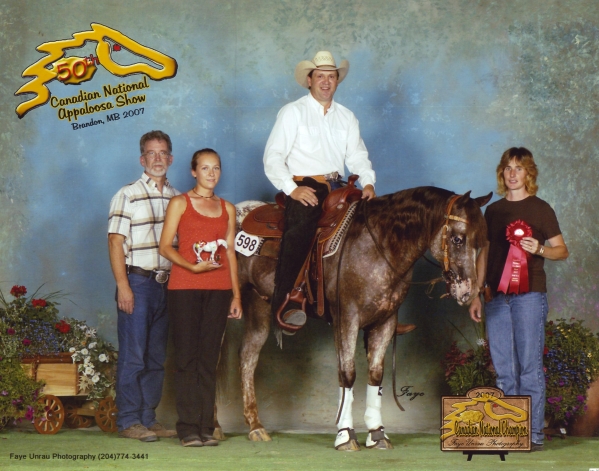 QT is an exceptional gelding with a proven pedigree. Very pretty gelding, naturally athletic and uses himself well. He is a big mover and looks very fancy in the show pen. Pretty circles, hard stops, excellent lead changes and snappy roll backs. Winnings include: 2007 Canadian National Champion in Junior Reining. 2008- 3rd place Amateur Reining- Canadian National Appaloosa Show. 2009- Gold Medal- Southern Alberta Summer Games- Reining. In the Appaloosa Shows won multiple reining Classes and western Riding classes. Has been shown in Green Reiner and Novice horse classes at Reining Alberta Shows and in open shows he has been shown in Trail, Equitation, Western Riding and Reining. QT has been used to trail team roping steers, you can swing a rope off. Recently been used in the pasture for calving this spring and sorting. He goes through deep snow, water and mud with no issues.
QT has also been patterned on the barrels with 2 months of barrel work, he has ran in the time only a couple of times and has a nice pattern on him.

Congratulations to The Dewes family. I'm sure "Mickie" will bring you much pleasure!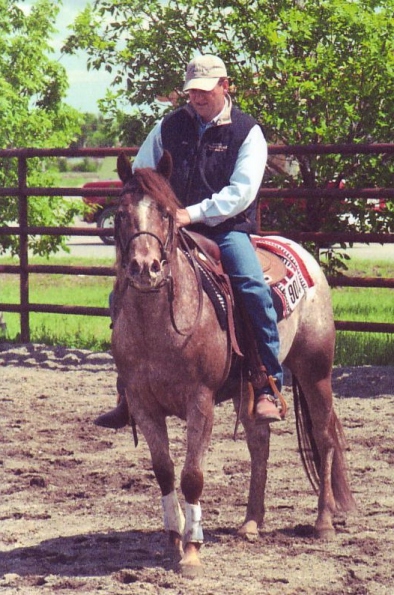 At his first Appaloosa show QT took first place under three judges in Open Reining - all ages!

Pedigree for Texas Sun Down QT
blanketed chestnut

All `Round Texas

Texago

Goer

Go Bay Go

Miss Bar Heels

Diamondot Musette

Diamondot Cantico

Diamondot Tonita

Impressive Queen - not QH Impressive

Mighty Impressive

Mighty Peavy

Miss Berseemboro

Topsanah

Little Booger

Chappo McCue

Sun Dan Dee

Sun Down Q

Top Quest

Top Hat H

Gimpy's Wimpy

Mom's Dandy Doll

Badgers Dandy

Clarita Doll

Danny-C-Prince

Dan Dee Bar II

Sonny Dee Bar

Red Fawn Ann

Gizz's Can Gin

Gin Can

Stolee's Red Princess
This pedigree page was built by Connie at SitStay.com