High Falutin'

(aka Eyes High Falutin)
ApHCC #34439 / ApHC # 569453

1995 blue roan mare
15 '3 hands high


Lu was started as a long two yr old and shown as a three yr old during which she was High Point Reining and High Point Working Cow Horse at the Appaloosa Congress and earned 1998 Canadian High Point Award for Working Cow Horse - all ages.

Her first foal was a black filly named
Salutin Texas
who is coloring out to a vivid varnish roan. She has been started under saddle and will be joining our broodmare band in the spring of 2003.

Lu's second foal was a tall black filly named
Texas Tornado
. Tori will be started in reining training spring of 2003.

Lu's third foal was a big black colt with a snowcap blanket named
Luke N Back Texas
who has been sold. His new home is in Texas and his owner's intention is to have him trained in cutting when he is old enough to start under saddle.

Lu's sire, High Sign Nugget, is a 5 time World Champion Working Cow Horse and ARCHA All time leading money earner. Her full brother, High Calibre, was a 1999 ApRHA Reining finalist, came 3rd in the 2000 Canadian Supreme Non Pro Reining Derby and was one of the top selling horses at a recent Appaloosa World Horse Sale.
Pedigree for Eyes High Falutin

HIGH SIGN NUGGET

HIGH SIGN

HIGH TIME

HIGH SPOT

DALLAS K.S.

LITTLE NAZ - AQHA

RED DOG'S COWBOY

NAZY

HEN PENNY

TOP STUFF'S BIG MO

TOP STUFF

TRIANGLE'S ADOKA BANDERA

FLICKA LADY BIRD

CHIEF SPECKLED BYRD

KING'S GOLD FLICKA

OK TOP DIAL

LUCASIA SNOWDRIFT

DIAL LIFE

DIAL BRIGHT TOO

DIAL RIGHT TIME

LUCASIA LINDA FLIGHT

OCALA FLIGHT

ROSALEEN - AQHA

OK TOP SPOTS

TOP SPOT

TOP HAT JR

JOANN SASKA - AQHA

PII FRECKLES

WYALTA DUSTY SPECKS

STORMY PII
This pedigree page was built for free by Connie Hunter SitStay.com
High Falutin' took:
1998 Canadian High Point Award for Working Cow Horse - all ages
1998 Appaloosa Congress
High Point Reining and High Point Working Cow Horse

Her sire holds Supreme Awards in Working Cow Horse, Cutting and Reining as well as:

1997 World Champion in:
Open Working Cow Horse
Non-Pro Working Cow Horse

1997 Canadian National Champion in:
Open Working Cow Horse
Non-Pro Working Cow Horse.
Open Cutting
Senior Reining
Reining Stake
High Point Cattle Event Horse

1996 Canadian National Champion in:
Working Cow Horse
Steer Daubing
Reining
Heading and Heeling

1993 to 1996
Multiple ARCHA and CRCHA Cow Horse Championships

Her five year-old Half Sister is 1997 World Reserve Champion in both Open and Non-Pro Working Cow Horse.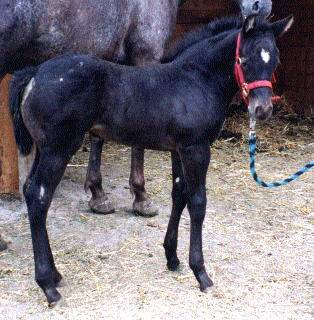 High Falutin' Foaled Salutin' Texas June 14,1999