Rein Dancer SSH
ApHC #577003
IAHA #1A 333341


Black Stallion with a white blanket and spots.

See Rein Dancer's Family in the Show Pen
Book closed to the public except for previously booked breedings.
Rein Dancer has it all! Reiny is bold and beautiful with lots of type. He has an easy disposition that he passes on to his offspring. Reiny babies are known for their affectionate nature. Reiny injured his back in a freak accident as a 2 yr old and was on stall rest for a year. As a result he was behind in his training under saddle and we opted to prove him through his offspring in stead. He is broke to ride and was very trainable. He collects naturally and easily and has a "10" lope which appears to come through in his babies.

His oldest son, Classical Dancer, is the Bronze Medalist at the 2008 Canadian CTR & Endurance Ride and was on the Alberta Team that took Gold! He won the Heavy Weight Open 80 mile CTR and went Grand Champion. A daughter of Rein Dancer SSH, Elegance Reins, has been scoring in the 70's in cow horse and cutting and has even won her first reining class! She has earnings in both cutting and cow horse and is headed to the WCH Futurity at the 2008 US Nationals. A filly by Rein Dancer SSH, Turn On The Charm, scored a respectable 69 in her first WCH class at the age of 3 and also headed to the US Nationals for the WCH Futurity.

Rein Dancer's paternal half brother, Justice Shines, multiple Champion in OPEN and Amatuer Reining at Region #17 and made top ten in the OPEN Reining at Canadian Nationals, the only junior horse to do so. Justice Shines earned futurity money at the Scottsdale Reining Futurity as a 5 yr old.

Reiny has been tested through the University of California, Davis Veterinary Genetics Laboratory and found to be homozygous for black so he cannot sire a red based foal. All his offspring will be black, bay, buckskin, grullo or amber/classic champagne depending on what modifiers the mare adds to the mix. Most of Reiny's bay offspring are black bay or seal - black with gold muzzle and flanks. Very flashy!
His pedigree combines the Polish athletic ability and Crabbet elegance with the speed of stakes winning Thoroughbred Tahitian King, a grandson of Polynesian who was the sire of Native Dancer. Tahitian Dancer was a classy blanketed stallion, Bright Eyes Brother bred, who earned Championships in Florida and California in Halter, Western Pleasure, English Pleasure and Reining.
Sire, SHINE ON MAHOGANY
His sire, Shine On Mahogany, is a 15'1 hands black Arab. He is a sweepstakes winner for Region 17 in Halter and Western Pleasure Junior Horse and was Top 10 Canadian National Halter Futuries as well as Top 20 United States National Halter Futurities. Shine On was bred by Grand Arabian Farms in Michigan who still stand his sire, Padron's Mahogany.See his webpage at:

Grand Arabian Farms


His Dam is
Tahitian Tar Baby
, a blue roan Appaloosa with black spots, listed on our mares' pages. His full brother,
Shine On Firedancer
'and his half brother
All Round McLeod
are also listed for sale.

REIN DANCER PEDIGREE
ASWAN
PATRON
PODRUGA
*PADRON
BRIGHT WIN
ODESSA
SERENDA
PADRONS
MAHOGANY
*HAL GAZAL
HAL THATS
AMOREA
HAL EVE
HAL ANE
VERSARE
G-AMIGO
G-AMAKA
BINT AKA
SHINE ON
MAHOGANY
CAHR #29464
BLACK ARAB
AQUINOR
ELEUZIE
ELLENAI
*HAL GAZAL
NEGATIW
*BUFA
BUSZNICA
HAL G MELODY
NIGA
G-AMIGO
GA-RAGEYMA
G-AMAKA
AKA-G
BINT AKA
KASALAH
POLYNESIAN-TB
TAHITIAN
KING - TB
CAROLYN A-TB
TAHITIAN DANCER
BRIGHT EYE'S
BROTHER
BRIGHT DELIGHT
PEGGY'S DELIGHT
TAHITIAN
FIREDANCE
GOLDSEEKER
BARS-AQHA
SEEKER
QUESTION - AQHA
FOOLISH
QUESTION-AQHA
SEEKER-CHEEPTA
CEE BAR
SATAN-AQHA
CHEEPTA-BARS
CHIPEETA
TAHITIAN TAR BABY
AppHCC # 22100
BLUE ROAN APPALOOSA
BLACK SPOTS OVER
HIPS & LOIN
SPECKEL BOY
SPECKELS JUNIOR
PAGAN LADY
JUNIORS YOYO
CHIEF YOYO
DAISY J
CLOE 2ND
BLACK PANSY
BLACK B
(pre-registry)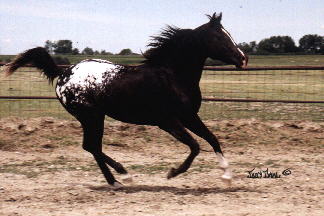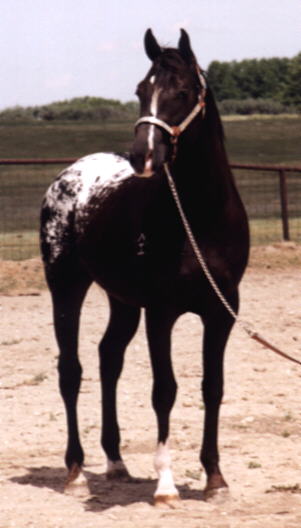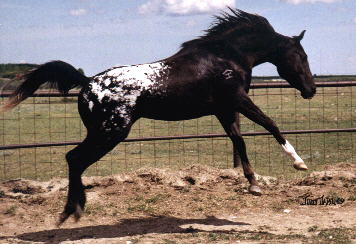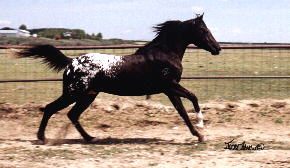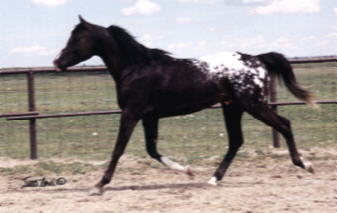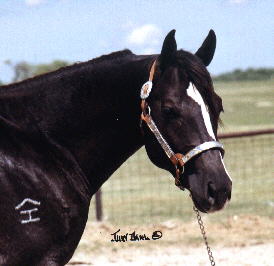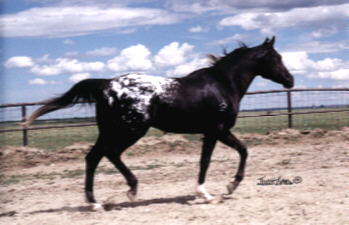 Rein Dancer at home for "Spring Break 2006"