Texsun Windfire SSH


roan liver chestnut filly
foaled May 2000


ApHC # 602214

ApHCC # 41202
Out of a running bred mare and by a stock horse champion, Texsun Windfire has the pedigree that combines both cow and run. Her sire is a Canadian Nat Ch and two time Alberta Champion Stock Horse with championships in WP, Reining, Working Cow Horse and Roping and a pedigree for speed. Her dam is an own daughter of Sun Wind And Fire who has a speed index of 107!
 She has been used as a broodmare and had two exceptional foals but we are cutting back our numbers. Her oldest filly is by a reining stallion, Sailors Little Dude. She is two in 2008, owned by a reining trainer and currently in training. Watch for her at the Canadian Nationals in 2010!!!
 Fire is extremely athletic, moves freely and has speed. She is a good mover and is very handy. Fire prefers to ride outdoors and has a long sweeping walk that she can keep up forever. She's been ranch roped off of and would make a good ranch or trail horse. Here's a mare that can truly do it all. Ride her on the ranch or trail, show her, take her to a gymkhana or a barrel race and in her off time make beautiful talented babies!
Fire has moved to the Lundbreck Falls area in the beautiful Rocky Mountains where she joins the Cail family as a mountain trail and hunting horse for William. Fire will also get to play in the ring with Karina occasionally.


Fires family:
full brother - All Round Jake
full sister - All That Gliters
half Brother: Sun Wind Fire N Rein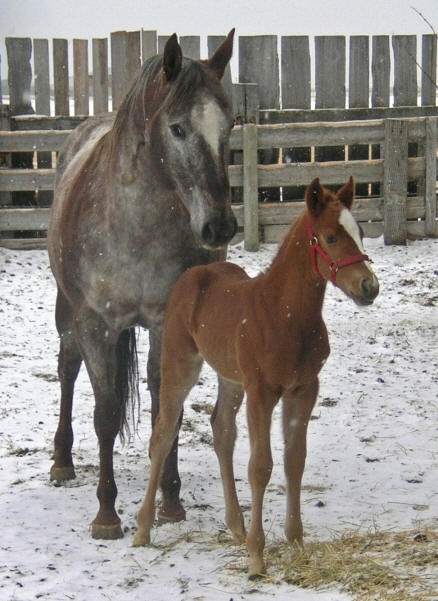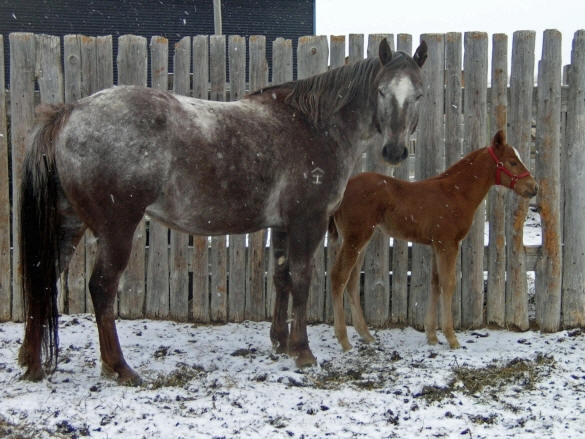 Pedigree for Texsun Windfire SSH
2000 Appaloosa Filly
Sire
All `Round Texas - Cnd Nat Ch & 2x Alberta Ch Stock Horse
Sire
Texago - World Ch
Sire
Goer - Hall of Fame
Sire
Go Bay Go - World & Nat Ch Sire
Dam
Miss Bar Heels
Dam
Dianmondot Musette - Bronze Production
Sire
Diamondot Cantico by Canticle
Dam
Diamondot Tonita by Sass Thomas
Dam
Impressive Queen - Medallion Producer
Sire
Mighty Impressive - World Ch & AAA race
Sire
Mighty Peavy - Nat Ch & Sire
Dam
Miss Berseembero - Silver Production
Dam
Topsanah - Halter Ch
Sire
Little Booger - GEAR Premier Sire
Dam
Chappo Mc Cue
Dam
Fires Fancy Falon - AQHA
Sire
Sun Wind And Fire - Race ROM & broodmare sire
Sire
Zevi (JC) - sire of 28 winners with $7,749,817
Sire
Cornish Prince by Bold Ruler
Dam
Spire by Carry Back
Dam
Naturally Content - AAAT Producer
Sire
Hempen - sired AQHA winners $3.5 million & AQHA winners $7.3 million
Dam
Candy Bar Dill by Dandy Bar
Dam
Fancy Mindy - barrel horse & AB keyhole record
Sire
Mr Fancy Cat
Sire
Mr Alley Cat by Old Tom Cat
Dam
Fancy Barette by Classy Bar
Dam
Down Town Doll
Sire
Town Prince by Camp Town Boy
Dam
Hell Hole Vixen by King Echols
This pedigree page was built for free at SitStay.com by Connie Hunter