Rein N Shine

homozygous black filly
foaled May 2, 2004

double registered

Partbred Arab and Appaloosa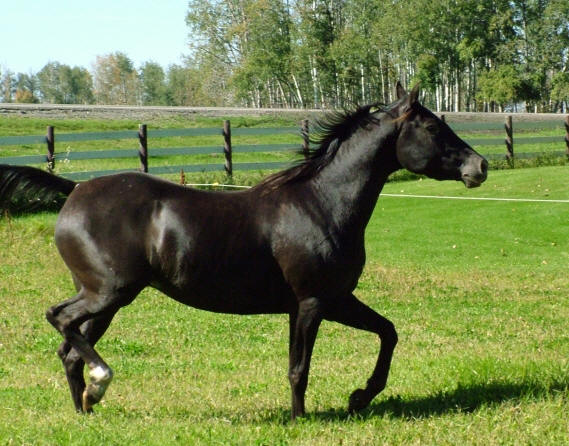 Hali is homozygous for black and is double registered with both the Canadian Partbred Arab Association and the Appaloosa Horse Club. Hali has several sisters; full sisters Mahogany Fox who will be campaigning in distance and Turn On The Charm, who is a Working Cow Horse; a 3/4 sister, Elegance Reins, who earned 4th place money at the Partbred Cutting Futurity in Tulsa in 2008 and won an Open Cutting Jackpot in Claresholm, Alberta and made Top ten in WCH at Scottsdale in 2008; and two paternal half brothers competing in distance, Do N The Hustle, 2008 Trail Riding Alberta Champion Novice Heavy Weight and Classical Dancer, 2008 Canadian National Team Gold Medalist, Individual Bronze Medalist, 2008 and 2009 Trail Riding Alberta Conference Grand Champion Horse, Open Champion Heavy Weight and Alberta High Point Champion. Her Uncle (half brother to both her dam and sire), Justice Shines, tied for 6th money at the Arabian Reining Horse Purebred Futurity in Scottsdale Arizona in 2009.
Hali is clever, correct, athletic and stands 14 hands. Built like a horse but pony size she'd be perfect for a woman or kid's horse. She learns quickly and has excellent ground manners. She has been ridden both indoors and out but loves the trail best. She loves to go forward and is a real moving machine, very bold and brave. Willing to tackle any kind of terrain; bush, water crossings, mud or whatever. Hali is full of energy but very soft and responsive to the bit and the leg. Reasonably priced at $3,000.
Owned by Sylvia and Barry Webb

Her full sister Mahogany Fox
Her dam is Lasa Charm


Rein N Shine Pedigree


Rein Dancer SSh

Shine On Mahogany - CAHR

Padrons Mahogany

*Padron

Hal Ane Versare

Hal G Melody

*Hal Gazal

G-Amaka

Tahitian Tar Baby - ApHC

Tahitian Firedance

Tahitian King

Bright Delight

Black Pansy

Juniors Yoyo

Black B

Lasa Charm - CAHR

Shine On Mahogany

Padrons Mahogany

*Padron

Hal Ane Versare

Hal G Melody

*Hal Gazal

G-Amaka

Desert Sabrina

Fire Bolt

*Bask++


Lakshmi

Miss Laura

Aurens

Miss Nafa