Go N To Rein

bay filly

ApHC # N 614486

foaled May 16, 2002
This classy mare has substance and style. Built like she's bred for halter but her pedigree says she'll do just about anything! Goin stands 15'3 with lots of body, a very "scookum" mare. She was nicely started under saddle and carries herself well. She moves elegantly and is willing to work. A nice mare to be around. In her first Open Show, Goin came third in sizable classes in both Adult Western Pleasure and Junior Western Pleasure.

Goin has passed her inspection and been accepted to the Canadian Sport Horse Association.

Goin's sire, Rein Dancer SSH, is an elegant stallion who's offspring are successfully competing in dressage, distance, reining, working cow and cutting.

Goin is the first foal of a lovely mare who's sire holds 18 National Championships, 7 Superiors and 3 Supremes in everything from Halter to Western and English Pleasure, Hunter and Trail and is one of few horses that have earned their Supreme Member of the Breed Award! Her dam has produced several National caliber geldings with ROMs in Hunter and Western Pleasure that range in size from 15' 3 to 17 hands.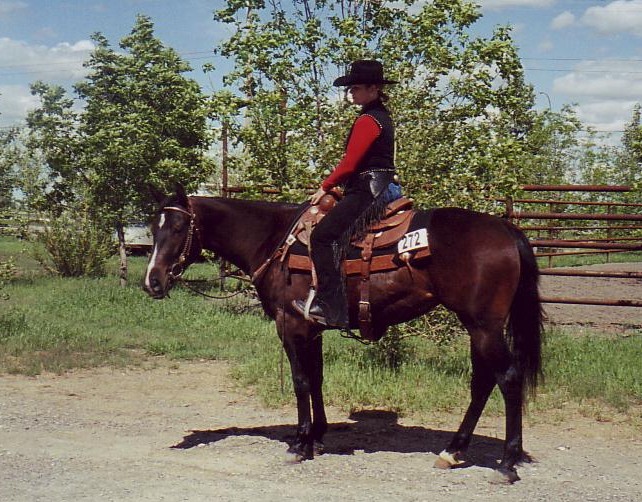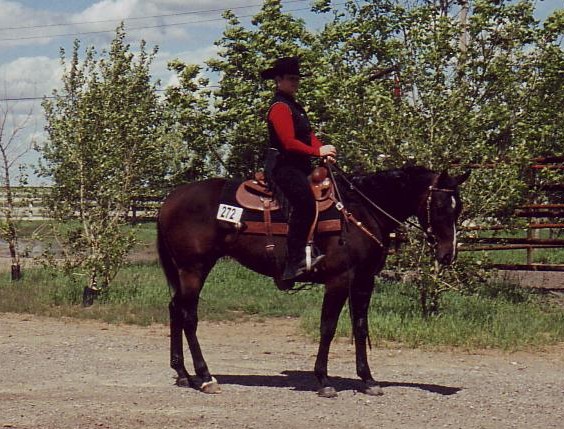 Pedigree for Go N To Rein
bay filly

Rein Dancer SSH

Shine On Mahogany

Padrons Mahognay

*Padron

Hal Ane Versare

Hal G Melody

*Hal Gazal

G-Aamaka

Tahiatian Tar Baby

Tahitian Firedance

Tahitian Dancer

Bright Delight

Seeker-Cheepta

Seeker Question

Cheepta-Bars

Touchedbyanangel

Goers Design

Goer

Go Bay Go

Miss Bar Heels

Miss Moore Cloud

Hayes Roman Cloud

Saucy Time

Seventh Heaven

First Secretary

Secretariat

Leola

Nona Roman

Hayes Roman Cloud

Miss Bars N 159
This pedigree page was built by Connie at SitStay.com