Texas Holdem High


(All Round Texas X High Falutin)
foaled Mar 4/06
ApHC 641630 & ApHCC 44875
View Movie of Casi at Nationals
Casi is a 15 hand, flat muscled filly with a very pretty head. She is sweet natured and loves attention. She is 86% Appaloosa by blood and an F4, the highest designation of Appaloosa that you can currently get in Canada. She loves to work cattle, has been over a few small fences, has done some gymkanas, enjoys to be out on the trail and doesn't refuse any obstacles. With a bit of practice Casi is ready to take on her Training Level I and II Dressage tests this spring. She is versatile, willing and has try. She ground ties, clips, bathes and does pretty much anything you ask her without hesitation.

Casi's only been shown one year, 2007. In that year she started with the Claresholm Super Circuit. She came first and second in Yearling Halter and won Grand Champion Mare - all ages. She placed second under both judges on Sunday behind her sister Lacy and also earned points in lunge line and in hand trail with only a month of training and conditioning. In July she went to the ApHC show in Drayton Valley where she came first under all 3 judges in Yearling Fillies and was awarded two Grand Championships and a Reserve Grand Championship.

Casi had a great show at the Canadian Nationals that year and proved herself to be very versatile. She won Canadian National Champion in Yearling Lunge Line, went unanimous Canadian National Champion in In Hand Trail and earned Reserve National Champion in F4 Halter and 3rd in Hunter In Hand - Mares.
Casi was at the Appaloosa Congress which was a dual approved show. She made us proud coming 1st under all 4 judges in both the ApHC and ApHCC Fillies of 2006 class and winning several Grands and Reserves. She is now qualified for Worlds in both Yearling Fillies as well as Lunge Line and has earned enough points to get her ApHC ROM in Halter! She came 2nd under all 4 judges in both ApHCC and ApHC Hunter In Hand mares in a large class of really nice mares.


The last show of the season was the Thanksgiving show at Moose Jaw, Saskatchewan. Casi won Yearling Fillies and went Grand Champion Junior Mare under both judges. She earned a first and second place in Lunge Line and In Hand Trail class. She also earned 2nd place money at the Saskatchewan Canadian Bred Appaloosa Futurities in a large combined yearlings class of stallions, geldings and fillies.


Overall that year Casi earned 113 points and received the 2007 High Point Awards for Yearling Fillies, Yearling Lunge Line and tied for High Point in Yearling In Hand Trail. She was the top earning CAIF yearling and got a pretty nice cheque for that too!

Her pedigree demonstrates her great potential. Her dam and sire are both Canadian Champions. Her grandsires are both World Champions. Two of her great grandsires have been inducted to the Hall of Fame while the third was a World Champion.


Texas Holdem High
Dtr Texas X HSN Dtr (reining/wch)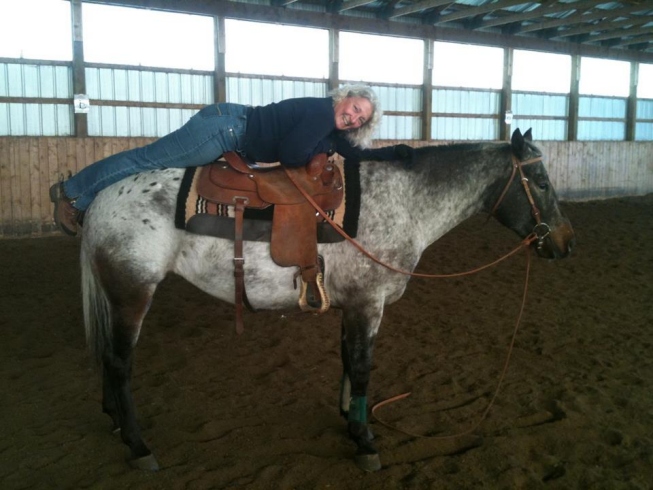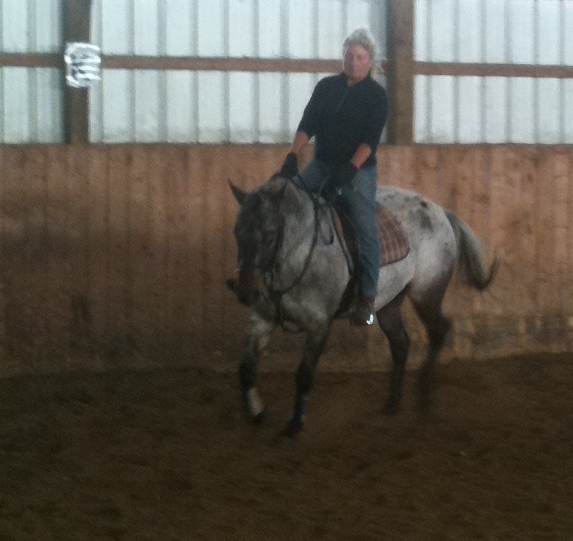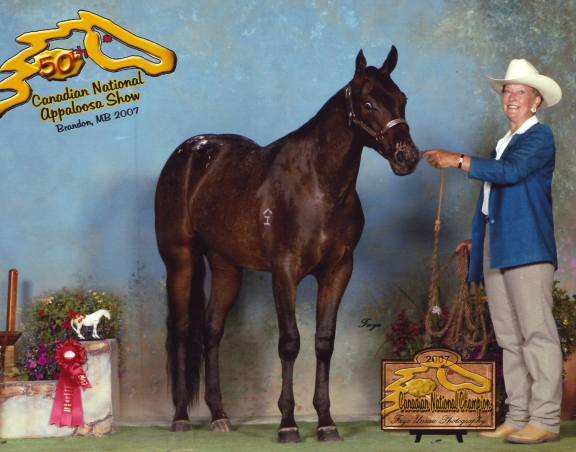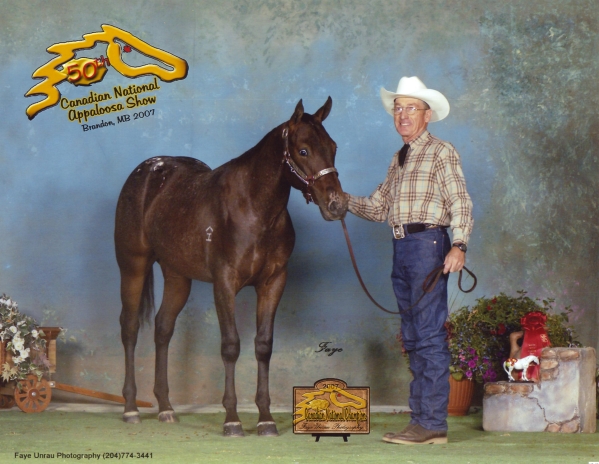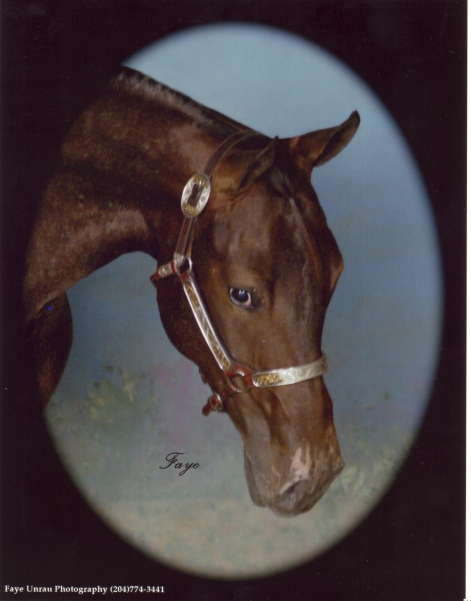 Pedigree for Texas Holdem High
GO BAY GO
60855 ApHC
GOER
180530 ApHC
MISS BAR HEELS
272595 AQHA
TEXAGO
T363740 ApHC
DIAMONDOTE CANTICO
159800 ApHC
DIAMONDOT MUSSETTE
PC2904 ApHC
DIAMONDOT TONITA
T77357 ApHC
(Sire) ALL 'ROUND TEXAS

MIGHTY PEAVY
44786 ApHC
MIGHTY IMPRESSIVE
T233723 ApHC
MISS BERSEEMBORO
PC1188 ApHC
IMPRESSIVE QUEEN
288959 ApHC
LITTLE BOOGER
T7423 ApHC
TOPSANNAH
T35279 ApHC
CHAPPO McCUE
194274 AQHA
HIGH TIME
16318 ApHC
HIGH SIGN
T199760 ApHC
LITTLE NAZ
143074 AQHA
HIGH SIGN NUGGET
474761 ApHC
TOP STUFF'S BIG MO
195237 ApHC
HEN PENNY
T373018
FLICKA LADY BYRD
T173416
(Dam) EYES HIGH FALUTIN'
569453 ApHC
DIAL LITE
19105 ApHCC
LUCASIA SNOWDRIFT
20720 ApHCC
LUCASIA LINDA FLIGHT
R14776 ApHCC
OK TOP DIAL
28094 ApHCC
TOP SPOT
9908 ApHCC
OK TOP SPOTS
16912 ApHCC
PII FRECKLES
2740 ApHCC
Her sire, All `Round Texas, is Cdn Nat Ch and two time Alberta Champion Stock Horse of the Year with Championships in Reining, Roping, Cutting and Working Cow Horse.
Her dam, Eyes High Falutin' , is Canadian High Point Champion Working Cow Horse by High Sign Nugget, multiple world champion, and out of a double bred Dial Good mare. Her dam's full brother was one of the high selling horses at the 2001 World Show sale.

Her 1999 full sister, Salutin Texas a black roan filly had several months professional reining training and was considered exceptional. As a result we have moved her into the broodmare band. She naturally works off her hind end and has the spark necessary for reining without being too aggressive. Her first filly is in reining training with Kim Smith.

Her 2001 full sister,Texas Tornado , a black roan filly was bred to rein or work a cow. She is sky eyed (not blue eyes, rather eyes with a slight upward tilt) and would be a 100% color producer, same as a snowcap (her sire All `Round Texas) or a few spot (dam's sire High Sign Nugget). As a two yr old, Tori was lunged twice, ponied once and then stepped into the saddle. Tori took everything in stride with no fussing. We had a nice little wander through the pasture.</> Tori was confirmed in foal to Rein Dancer SSH for a 2005 foal and was sold to a stud farm in London, England bordering on the Epping Forest.

Her 2002 full brother, Luke N Back Texas, is a BIG black snowcap stallion prospect who has been sold. His new home is in Texas and his owner's intention is to have him trained in Canada and eventually stand at stud. His first two foals are due in 2006.

Her 2003 full brother, Austin Texas, is another big black colt with a blanket over his hips who was sold to Timber Ridge Appaloosas in Spruce Home, Saskatchewan as their herd sire.

Her 2004 full brother, High Tex Solution, is another snowcap stallion who will be starting his training in 2006. He will be standing at stud after his show career is established.